IOS Vs Android App Development – Which One To Choose?
When it comes to developing an app, many businesses find themselves stuck with the question of which platform to choose for launching the native app. The answer might seem easy, but it takes a lot of factors into consideration before arriving at one.
Android and iOS Users behave differently, thus, not choosing the platform correctly can leave your app abandoned in the application store. There are many factors that affect the decision – the nature of both stores, monetization plan, your end-user, the devices they use and the development time.
To help you with settling on the best choice for your organization, we'll give you some insights by comparing iOS vs Android app development head-to-head.
Let's look at the market share first to have an idea of the audience set each OS (operating system) hold.
Android Vs iOS Market Share
Android Vs iOS Market Share
The above image shows the market share of all app stores where Android and iOS have the maximum share. So, one thing by this is clear that Android and iOS are the go-to platforms to find your audience. Coming back to which leads the market – Android is clearly the winner here despite the decline in the Android owners.
Seeing the number you may think to opt for Android platform to reach a larger audience but you also need to consider your end-user geographics, demographics, usability and spending capacity.
Let's discuss this more in detail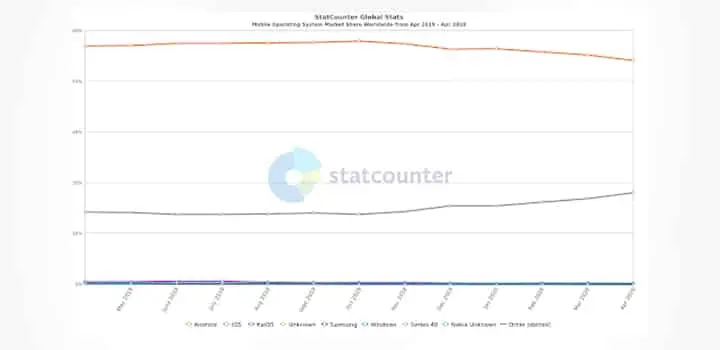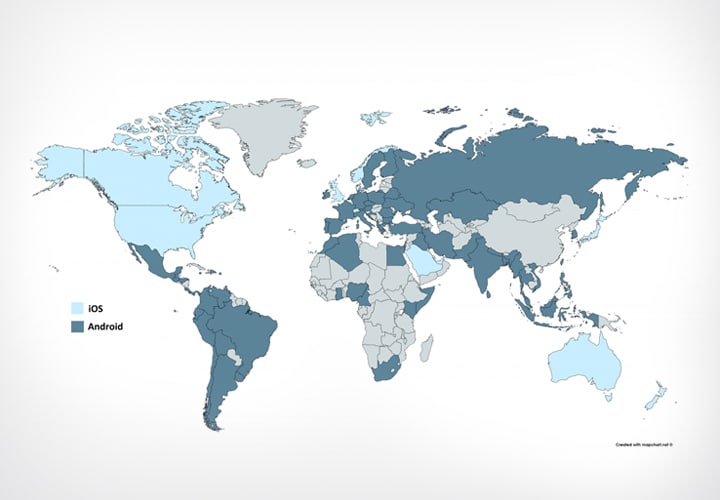 As you see in the figure, the app store dominance differs in geographical locations. Android has more dominance in Asian continent countries like India, while iOS rules North America. The data shown here is limited. So, you shouldn't skip your research.
Research your target audience. Collect as much data as you can. Use your own data to predict which OS your audience prefers and choose the platform which has geographic and demographic dominance.
Once, you have researched your target audience set, you may feel like opting the same platform. But don't rush there are other factors that matter.
Let's dig deep to each one of them.
Android App development vs iOS App development
Android App development vs iOS App development
1. Launching Restrictions
Once the app is developed, you are required to submit the app on Apple App Store or Google Play Store for users to access it. Your app goes through reviews before it gets published on the app store.
Apple
Apple is a closed ecosystem means that Apple regulates entrance to use their platform. Developing in a closed system means there's more control and stability. App store offload apps due to privacy and quality concerns. But with that, more restrictions for developers means building a high-end product at once that will perform great on the App store. Another positive aspect of the App store is the data your apps collect of users is secure from any malware and theft. Apps created for app store are accustomed to providing rich user experience.
Android
Android offers an open system which allows developers to submit apps easily. The apps developed for Android, not necessarily have to be great standards. The developer learns about user engagement after multiple modifications. There are chances that the app faces data theft problems as android doesn't offer its own security and privacy.
The process of getting listed on the iOS App Store is noted for being more challenging than getting a Play Store listing.
Approval time
Approval time is the time taken for the stores to approve your app. It usually takes a few hours for Google play store to approve and publish your app. In the App Store, there's a committee of real people who check your app and rolls out your app on the store only if it follows all the guidelines and rules.
2. App updates on Operating Systems
When your App gets approved and your users start using, you will require to update the app to enhance user experiences or to fix app bugs. Many developers forget to consider this when they launch on Agile methodology to improve the app features as per user experience.
Apple
The majority of Apple users are running their device on the most current version. The 95% of Apple users' phones have one of the latest two versions installed. The new versions automatically get updated on apple devices. This makes easy for developers to provide app updates and new feature releases to its users. In addition, fixing a bug is easy as only two primary os versions will be running.
The older iOS versions show a decline on devices while the latest versions grow at a steering rate. You'll just need to be prepared to come up with more updates to optimize the user experience.
Android
Android makes OS updates optional. Android users do not update their OS manually. Also, the older devices at times are unable to update versions because of heavy file sizes. Thus, in Android, you will find the devices have versions that are out of date. So, this makes challenging for a developer to develop an app compatible for all versions and release updates that functions on lighter versions also.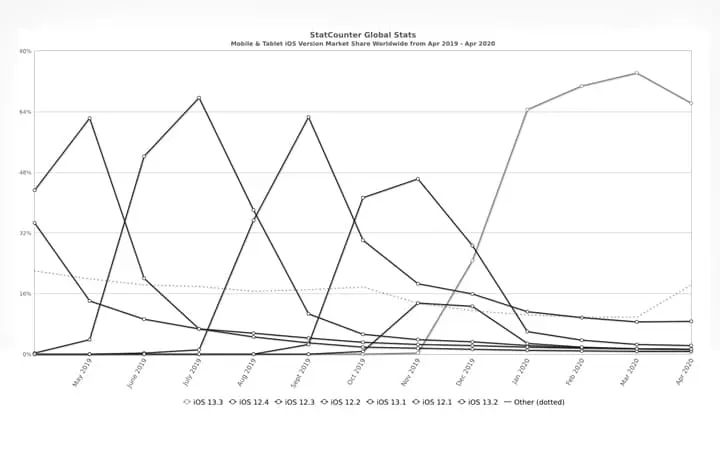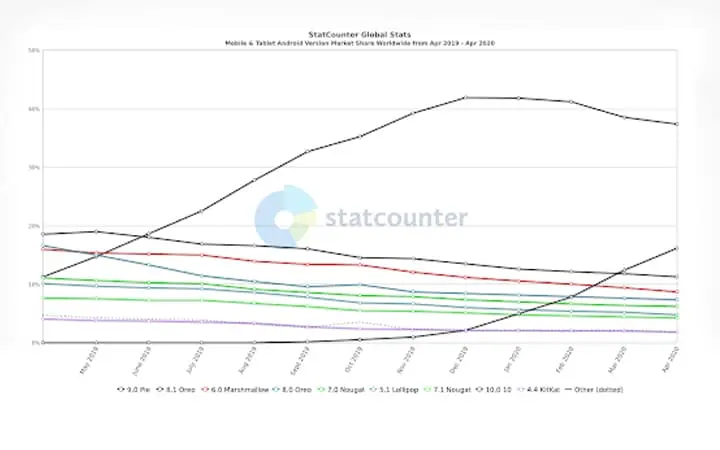 Android users of older versions will not have the same user experience compared to the user having the latest version.
Tablets
Apple iPad is user friendly and offers seamless usability to its owners. The new OS versions again get updated easily while Android tablets are technical. Android devices are used are more likely used by professionals. They are less likely to be updated.
3. Development Complexity
When it comes to the development complexity of an Android app vs iOS app, Android loses. As we read above, an ios developer is already aware of the new updates and customise an app once according to the updates which run great on all Apple devices. While the Android developer has to write code for each version and phone version.
4. App monetization
The App model of every business is to make money from it. The user app spending differ on both devices. The most common business models used are: Subscriptions, In-app purchases, Advertisements, Pay per download.
Apple
Apple users have high app spendings and tend to over greater revenue through monetization models. App stores allow paid app to make money on every download but most of the app owners keep it free to initially allow the user to have experience and later engage to pay for subscriptions.
Take a look at free vs paid apps for Android and Apple
From the graph, it is clear that Apple has more paid apps. The average iOS owner is ready to pay more, so we shouldn't be surprised that the Apple App Store gets more revenue from mobile apps than the Google Play Store. So, if you want to charge for downloads, the Apple App Store is the place to do it.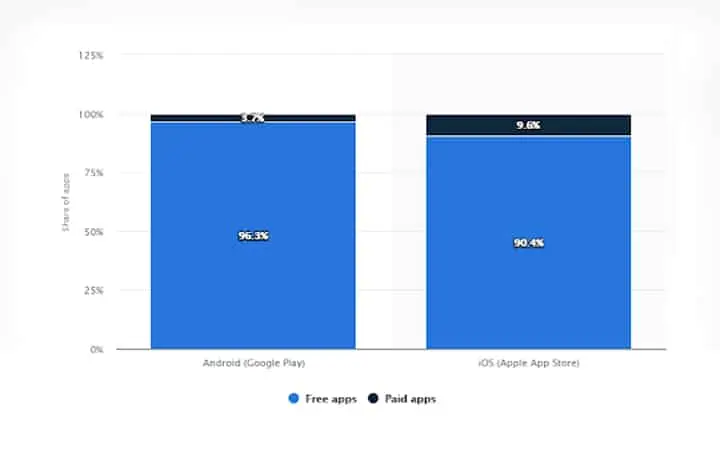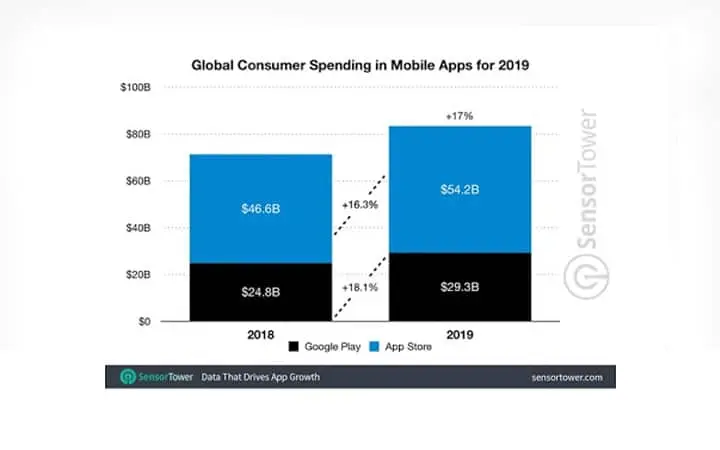 Further, the App store users are willing to pay more for the app subscriptions and services over android.
Android
Android apps are good for in-ap advertisements. So, if you want to make money through advertisements and some app subscriptions you build your app for android. The reason android store prefer to allow free apps more so that the app owners get maximum install and once they engage user, they can charge the user with freemium plans to avoid advertisements.
5. Development Cost and Time
The development cost is the developer fee into the development time taken to develop an app. The average time required to build iOS and Android apps is approximately the same but the time lies in testing.
Apple
Testing for Apple takes less time because it has fewer devices to run code. To provide a high-quality product and furnish full compatibility with a maximum number of devices, apple store already has strict guidelines. So, iOS already have to follow all that to launch the app. Once the app is coded for all devices, it clears testing phase in less time.
Android
Android dominates the market and has many users using play store on many devices on older versions. As a result, there are often more bugs to fix in Android apps than in iOS applications. Correspondingly, the cost of an Android project is generally higher as it takes more updates and releases even after launching the app.
The bottom line
When starting to develop your own mobile application, make sure you've gone through one of the most important considerations. But if your main motive is to earn money from the platform, App store is the right choice. Or in another case, if you are brand and want to develop an app to inform and keep your users updated of the business updates, android is better to reach the larger audience set. But then there is a third option called hybrid apps which requires to code once and deliver similar performance to both the audience. It's less expensive, faster to build, and easier to maintain.
So, in case, you are planning to launch any of these, At Deligence Technologies, we provide premium customized services. And before we onboard you, we go through the phase zero process to understand your requirement to advise you accordingly.