Mario is the innovative platform that supports you in finding the most suitable assistance service for your loved ones. Through our research, you can find, based on your geographical position, the best health residence (retirement home) or the home service that best meets your needs.
Mario allows users to search for elderly care services for their loved ones. It also enables the care providers to register themselves on the platform and offer their services to the care seekers.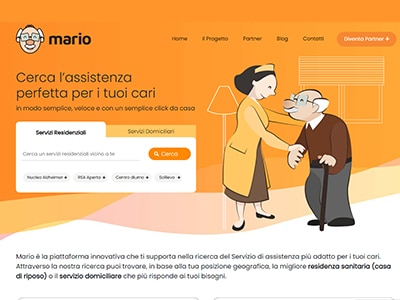 Here is the message of the web app for the Care Providers –
Do you want to give more visibility to your structure online?
Do you want to automate admission applications within your facility, reducing the time you usually spend on handling cases?
Is it really possible to streamline the entire process of managing admission applications?
Yes, by decreasing the steps required to complete the process itself.
Thanks to Mario.care
We have developed many features of this website/web app, and one of them is to integrate DocuSign, which allows the Care Seeker and the Care Providers to sign the agreements online and start contact.